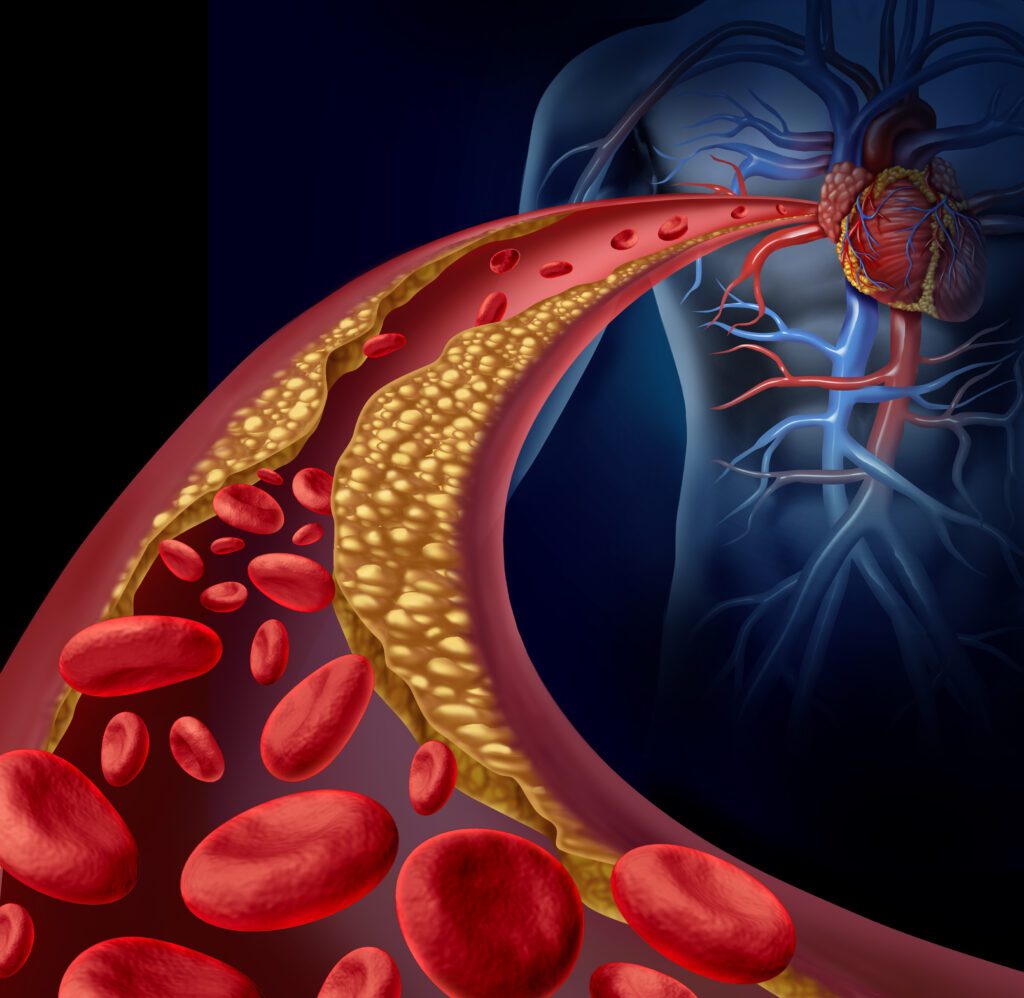 Determining your risk for heart disease is an important aspect of preventative healthcare. After all, cardiovascular disease is the number one cause of death globally, with one in three people being affected by it at some point in their life, according to the American Heart Association [1]. Furthermore, heart disease is the number one cause of death in women during and after menopause due to a drop in estradiol levels [2].
You've probably had a blood draw for a lipid test to measure your cholesterol levels as part of a healthcare examination. This has been the standard test to measure your risk for heart disease for several decades, with close consideration given to LDL levels, commonly called the "bad" cholesterol.
Now, new research suggests a change in determining your individual risk for developing heart disease. Researchers are now finding that Apolipoprotein B, or ApoB, is a better biomarker for measuring the risk of developing heart disease, particularly atherosclerosis, the primary cause of cardiovascular disease.
What is ApoB?
Apolipoproteins function as building blocks for lipoproteins which bind fats and cholesterols and move them through the blood.
Apolipoprotein B – apoB – is found in the following lipoproteins:
Chylomicrons
Intermediate-density lipoprotein IDL)
Lipoprotein
Low-Density lipoprotein (LDL)
Very low-density lipoprotein (VLDL)
In addition, there are two types of ApoB:
ApoB 48 – made in the intestine and generally found on chylomicrons
ApoB 100 – made in the liver and the most important regarding the development of atherosclerosis
Lipoproteins that contain ApoB particles can cause an accumulation of plaque on your artery walls, putting you at risk for heart disease and stroke. Your risk of atherosclerosis is directly influenced by the concentration of ApoB particles in your blood and how long your artery walls have been affected by them.
How ApoB May Better Predict Heart Disease
Prevention and controlling risk factors are the main ways we have historically approached preventing and reducing mortality from cardiovascular disease. But the risk of developing cardiovascular disease is rising, so new methods for predicting, treating, and lowering the risk are needed [1].
Several recent studies have found that "increased levels of ApoB are a better predictor of risk for cardiovascular disease (CVD) than the aforementioned traditional markers" [3]. 
Standard Lab Testing
The standard lipid panel includes four cholesterol readings:
Total cholesterol
High-Density Lipoprotein (HDL)
Low-Density Lipoprotein (LDL)
Triglycerides
It doesn't include your ApoB levels, and, unfortunately, relying on LDL levels to determine your risk for heart disease is not always enough. LDL can vary in size and density, meaning they aren't the most consistent measurement for cardiovascular disease risk. Additionally, "Total cholesterol, HDL-C and triglycerides are directly measured, whereas the LDL-C levels are estimated…"[1]. Therefore, measuring ApoB results in a far more accurate risk determination than LDL alone.
Furthermore, many people who develop cardiovascular disease present with normal LDL levels, providing further evidence that using LDL measurements to determine risk is an imperfect determining factor [1]. Researchers from Intermountain Health recently presented a new study at the 2023 American College of Cardiology annual Scientific Sessions conference examining ApoB, they found that ApoB testing can help identify patients who may continue to face a higher risk for cardiovascular event, despite their normal LDL levels [5].
But despite the emerging evidence of ApoB testing for cardiovascular disease risk, testing apoB levels is still not common practice.
Testing For ApoB and Treatment Options
Current evidence suggests that screening ApoB levels should be added to the standard lipid screening [4]. ApoB testing is a safe and relatively inexpensive way to screen more thoroughly for your risk of developing heart disease, especially for those at a greater risk of heart disease due to family history or co-morbidities.
Work with our specialists at Rejuvenate Hormone and Weight Loss Center to test your cholesterol levels, including ApoB. We can help you lower your ApoB levels with bioidentical hormone optimization treatment, education on your optimal diet, and other treatment options curated to your specific needs.
Experience Optimal Health with Rejuvenate Hormone and Weight Loss Center
At Rejuvenate Hormone and Weight Loss Center, we specialize in hormone optimization and helping people find the root cause of their health issues – we don't believe in a one-size-fits-all approach to treatment.
Instead, we take the time to understand your symptoms and medical history and work with you to create a personalized treatment plan specific to your healthcare needs. Our bioidentical hormone specialists are experts at helping you achieve optimal health.
Our concierge practice is a safe, supportive place to call home and receive real-time expert support- in person or virtually –for all your health goals and challenges.
Contact us today for a consultation where our team of providers will formulate an individualized treatment plan to help you feel and look your best–from the inside out. Feeling like yourself again and living your best life starts here and now.
Book a consultation today to get started.
Clinical References:
The information provided is for informational or educational purposes only and does not substitute professional medical advice or consultation. Please work with a qualified healthcare provider before starting any new medication or supplements.